TECHNICAL MANAGEMENT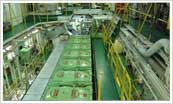 Technical management is the core activity of the company and to provide quality services we have a team of highly talented and experienced superintendents and staff who are dedicated to look after the assets that the ship owners have trusted us with. We believe in translating our company values into actions, which enables us to maintain transparency in all our dealings. We adhere strictly to the budgets mutually agreed with the owners and do not believe in hidden costs or financial surprises to the owners. Needs of our customers are our guiding force and we take pride in exceeding the expectation of the owners. Excellence of our performance is frequently seen when we beat our own benchmarks. Being proactive is our habit therefore planning is and integral part of our activities thereby minimising on the waste of our resources. Well laid out procedures ensure "Right action at the right time".
Ships are inspected at regular intervals of three months by the technical superintendent to ensure a very close follow-up of shipboard activities. Our computer based systems are used to monitor vessel performance. Data sent by ships is analysed ashore to optimize vessels speed and consumption performance.
Quadrant has the flexibility to adjust to all owners needs for periodic technical and accounting reports. We are geared to provide you with any information you require at any time.