Crew-Management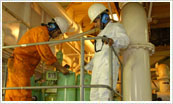 In order to provide qualified and motivated seafarers Quadrant has its own office in India and has appointed highly professional agents in a further four countries. We further recognize that training is an essential factor to ensuring a pool of qualified crew. This translates into our ability to cope with dynamic international regulations and always be prepared for future demands.
We firmly believe that smooth operation of any vessel is the outcome of "Right man on the right job". It requires reliable and valid selection methodology to ensure selection of the right person. We have to our credit well developed systems and selection procedures. The computerized functional and psychometric test ensures that the square pegs in round hole situation is reduced to nil.
We have a pool of excellent seafarers who wholeheartedly contribute to achieve ship owners business and objectives and realize the Quadrant vision. Our floating staff are on continued employment with us and most have been in our employment for a long time.

Our Crew Management service package includes:
Crew recruitment and procedures for joining ship and repatriating crew.
Payment of wages and leave with overtime, service bonuses, etc. of officers and crew.
Medical examinations and fitness certificates.
Implementation and follow up of drug and alcohol policies.
Crew P&I insurance as well as handling of respective claims.
Ship´s cash insurance.
Training.
Proper qualification and certification of crew.
Supply of working gear for crew.
Insurance of crew effects.
Visits to the vessels by Quadrant's Superintendents to supervise crewing arrangements.
Passing on economies of scale due to our market presence.
Protecting the crew from consequences of sea perils and monitoring their welfare ensuring availability of adequate insurance covers.
Ensuring availability of sufficiently qualified crew onboard to respond to emergencies.